Covertex is ISO 9001 certified. We source our polymer fabrics from the world's leading manufacturers.
Marine Products
Flexible Tanks
A range of flexible tanks or bladders suitable for the storage of potable water, fuel, waste water and industrial liquids.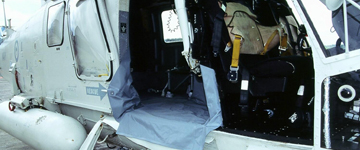 Helicopter Wet Floor
Covertex can fabricate a made-to-measure wet floor (wet deck) to protect the inside surfaces and avionics of any helicopter from during water rescues.
Rescue Bridge
The Covertex Inflatable Rescue Bridge is a robust and stable platform for use on water, wetlands, ice and other unstable surfaces.
Sports
For over 25 years, Covertex has been supplying inflatable race course marker buoys and promotional branded markers for water-based applications, including prominent international events such as the Louis Vuitton & America's Cup Regattas. All markers can be branded for high impact promotion and sponsorship advertising.