It's our job to provide a work environment that lets medical people operate quickly and effectively. Everything we manufacture lives up to the highest quality standards.
Covertex is ISO 9001 certified. We source our polymer fabrics from the world's leading manufacturers.
Medical Products
Emergency Airshelters
Covertex inflatable AirShelters range from emergency response shelters, which provide an instant self-contained solution, to larger shelters for humanitarian and disaster response where a complete work space or even a community under canvas is required for a major incident.
Decontamination Shelters
A comprehensive range of decontamination solutions, from single shower cubicles to mass decontamination stations. All have been developed for quick deployment and ease of use in any location.
Defence Airshelters
The award-winning Covertex Defence AirShelters are a range of compact and modular inflatable structures, providing rapid deployment and configuration flexibility. Designed to the highest standards using military specific materials.
LED Lighting Systems
The Covertex LED lighting system is a portable, compact and modular lighting solution for use with any inflatable, fixed or existing structure.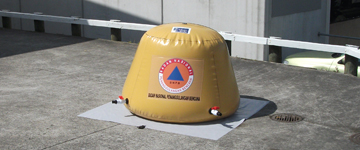 Flexible Drums
Covertex Flexible Drums are a highly versatile solution for the storage or transportation of potable water and HAZMAT materials.
Flexible Tanks
A range of flexible tanks or bladders suitable for the storage of potable water, fuel, waste water and industrial liquids.