Covertex custom design products are made to fit a customer's specific requirements. Whether the challenge is a new membrane for a wine press, a helicopter cover or lining for a drainage pipe, our design team apply their skills to deliver a purpose-built product that's a perfect fit.
The Covertex design team works with advanced software to create products that exactly fit your specifications.
Custom Design Products
WINEPRESS MEMBRANES
For more than 20 years, Covertex has been designing and fabricating high quality membranes for pneumatic winepress machines.
Helicopter & Vehicle Protection
Covertex can fabricate a made-to-measure cover for long-term preservation or all-weather protection in the field or on board a vessel. Covers can be gas and watertight.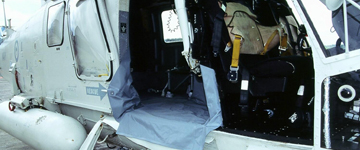 Helicopter Wet Floor
Covertex can fabricate a made-to-measure wet floor (wet deck) to protect the inside surfaces and avionics of any helicopter from during water rescues.
Calibration Hose
Covertex supplies the drainage industry with custom-sized calibration hose liners. When used as part of a full repair system, our liners enable repair to damaged or deteriorating pipes.
Custom Design Downloads
Download full-colour brochures that explain the benefits and features of our Custom Design products.